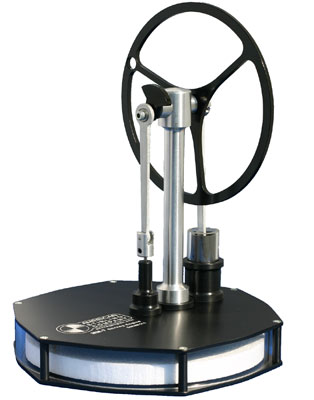 What is a Stirling engine and how do they work?
Stirling engines convert thermal energy into mechanical energy. These stirling engines take a temperature difference between the top and bottom plate and turn it into rotational energy, rotating the flywheel. Simply placing a cup of warm coffee/tea underneath is enough for it to work. It can even work from the heat of your hand! Its even possible to run it of something cold provided the other plate has something warmer.

This stirling engine
This is the largest stirling engine we sell and as far as we are aware the largest model stirling engine on the market. It's a beautiful conversation piece for your home, office , physics or chemistry department. It will run indefinitely on your warm hands in a 72 degree F (23 degree C) room or on a computer monitor, TV, DVD player, VCR, stereo amplifier/receiver or fax machine. It will even run on bright sunlight shining through a window.

It only requires that the base plate be 7.2 degrees F (4 degrees C) warmer or cooler than the top plate for it to run continuously. Amaze your friends, your family, your co-workers, or just yourself!

Its runs at approximately 90 rpm (speed depends on temperature differential, barometric pressure, and other factors) When running on your warm hand, the engine will run faster in cold rooms, slower in warm room, and not at all in very hot rooms.


Specifications
Height:
8" (20.3 cm)
Diameter:
6.5" (16.5 cm)
Weight:
1 lb. 2 oz. (500 g.)
Temperature differential required:
7.2 degrees F (4 degrees C)
Precision Ball Bearings:
4
Piston Material:
Graphite
Power Cylinder Material:
Borosilicate Glass
Flywheel Material:
Powder Coated Steel
Metal Parts:
Anodized Aluminum and Steel