What is a Stirling engine and how do they work?
Stirling engines convert thermal energy into mechanical energy. These Stirling engines take a temperature difference between the top and bottom plate and turn it into rotational energy, rotating the flywheel. Simply placing a cup of warm coffee/tea underneath is enough for it to work. It can even work from the heat of your hand! Its even possible to run it of something cold provided the other plate has something warmer.
These Stirling engines
These wonderfully made stirling engines are a joy to watch. They can run from the heat from your hand. They really get up to a speed when place on top of a cup of tea or coffee. Been made over a number of years and this shows with the performance.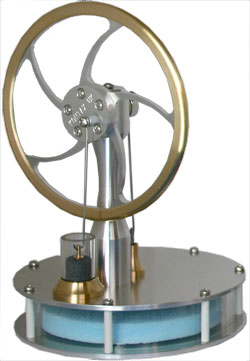 Specifications
Height:
5" (12.7 cm)
Diameter:
3.5" (8.9 cm)
Weight:
164 grams
Bearings:
precision plain
Piston Material:
Graphite
Flywheel Material:
Polished bronze (formally brass)
Metal Parts:
Anodized Aluminum
All airtight seals are made with precision screw threads and O rings, NOT glue
Each piston/cylinder set is a precision matched pair, machined to micron precision
Ultra low friction bearings, NO lubrication required
Precision engineered and hand built in England
Note:
Now also available in kit form. Kit engines require a computer with CD-ROM drive to view building instructions.